Liebe Freunde in Österreich
Diese Sonntag, 5. Oktober, werde ich präsentieren einen Workshop an der Musikschule Mank.
Ich habe viel von meiner Zeit verbrachte Lehrtrompetenunterricht, in den letzten 20 Jahren, und ich habe viele gemeinsame Dinge, die wir tun, wie die Spieler, die es erschweren, oder mehr Arbeit aufgefallen, als es sein muss, um zu spielen ein Blechblasinstrument. Es gibt einfache Dinge, die wir alle tun können, um es einfacher !!
Haben Sie sich jemals es schwierig oder anstrengend oder sogar schmerzhaft zu spielen gefunden? Sind Sie mit Ausdauer oder Bereich zu kämpfen? Finden Sie, dass Sie stecken fest und kann nicht scheinen besser zu spielen zu bekommen? Dann ist dieser Workshop für Sie !! Es gibt einen besseren Weg, und ich will Ihnen helfen, es für Sie !!
Wir alle spielen ein Instrument, weil wir lieben, Musik zu machen. Wir haben nicht das Gefühl, als würden wir mit einem Kampf, wie wir es tun!
Dieser Workshop ist offen für alle Blechbläser. Bringen Sie Ihre Instrumente und lassen Sie mich Ihnen helfen!
Der Rest der Informationen, die Sie brauchen, ist auf diesem Plakat – Hier klicken um Christian Salzer bei Schagerl per E-Mail, um Ihren Platz zu reservieren heute!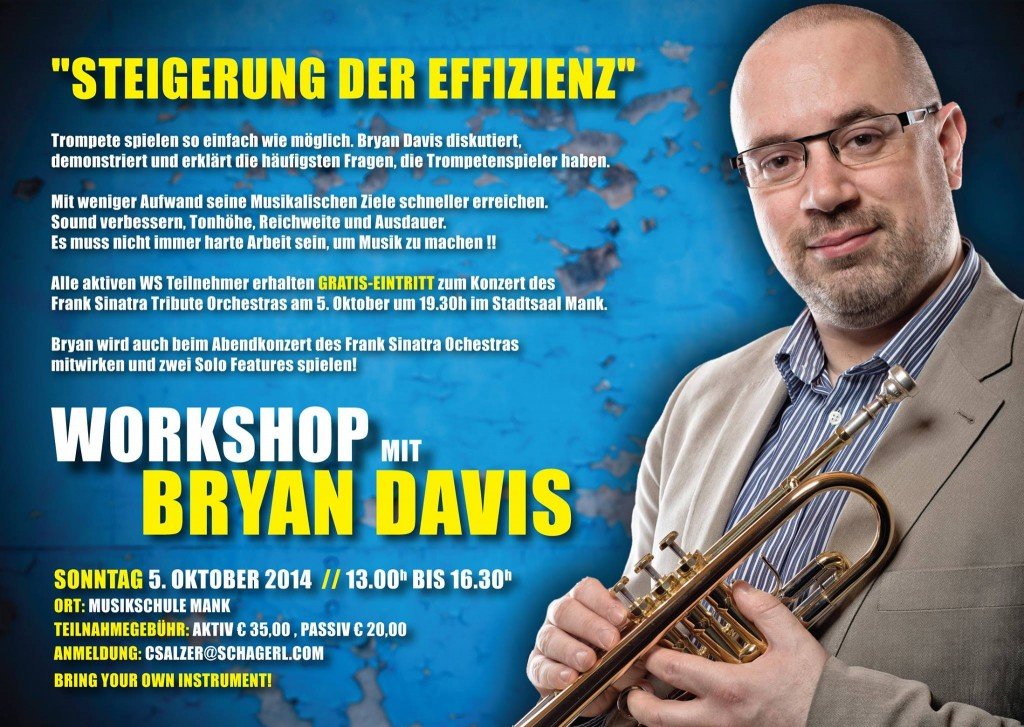 Dear friends in Austria
This Sunday, October 5th, I will be presenting a workshop at Musikschule Mank.
I've spent a lot of my time teaching trumpet lessons, over the past 20 years, and I've noticed many common things that we do as players which it make it more difficult, or more work, than it needs to be to play a brass instrument. There are simple things we can all do to make it easier!!
Have you ever found it difficult, or tiring, or even painful to play? Do you struggle with endurance or range? Do you find that you're stuck and can't seem to get any better at playing? Then this workshop is for you!! There's a better way and I want to help you find it, for you!!
We all play an instrument because we love to make music. We don't have to feel like we're having a fight, as we do it!
This workshop is open to all brass players. Bring your instruments and let me help you!
The rest of the information you need is on this poster – click to email Christian Salzer at Schagerl to reserve your place today!